Our caring and compassionate veterinary care team!
Meet the Veterinarians & Team of Driftway Animal Hospital in Scituate! We're pleased to provide exceptional vet care for your pets!
Please call us at (781) 545-0952 to speak to one of our caring veterinary staff members!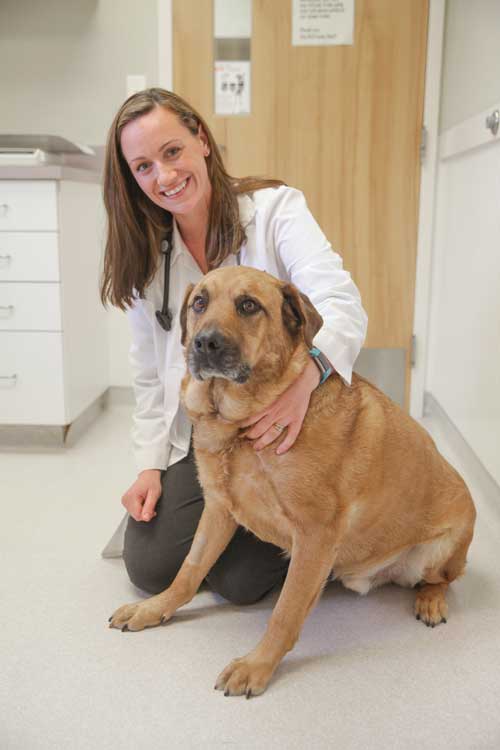 Siobhan Burke, VMD
Dr. Siobhan Burke has been with Driftway since 2011 and became the owner of the practice in 2017.  She received her Doctorate of Veterinary Medicine from the University of Pennsylvania in 2009, where she was very involved with the Veterinary Business Management Association and also received a certificate in Business Management.  Dr. Burke is a Massachusetts native and completed her undergraduate degree at Northeastern University obtaining a Bachelor of Science in 2004 in both Behavioral Neuroscience and Biology.
After previously working for a holistic, integrative veterinary practice prior to coming to Driftway, one of her goals is to introduce alternative medicine practices to compliment traditional medicine.   She believes that both can be used together to improve health of her patients and foster the human-animal bond.  She is certified in Veterinary Chiropractic Medicine (CVCP) and Veterinary Acupuncture (CVA) through training at the Chi Institute in Florida.  Dr. Burke is a member of the American Veterinary Medical Association (AVMA), American Holistic Veterinary Medical Association (AVHMA), and Massachusetts Veterinary Medical Association (MVMA).
As the owner of the practice, it is her mission to be very involved with the community.  She was previously on the board for the implementation of the Scituate Dog Park, and serves on a planning committee for the Scituate Animal Shelter.  She has been a volunteer and donated services to the Scituate Animal Shelter and other rescue organizations.
Dr. Burke lives nearby in Norwell with her partner, two daughters, 2 rescued dogs and cat.  She enjoys gardening, painting, and swimming in her free time.
Victoria Morgan Salvatoriello, DVM
Dr. Victoria Morgan Salvatoriello joined the Driftway Animal Hospital team in April of 2013. She is a 2011 graduate of the Michigan State University College of Veterinary Medicine and a member of the American Veterinary Medical Association and the American Veterinary Dental Association. Dentistry, and weight management are her areas of professional interest.
Dr. Salvatoriello is a native of Cohasset, MA and 2005 Magna Cum Laude of Union College, where she was a double major in Biology and Computer Science. She says her college advisor encouraged her to study to become a veterinarian.
"We had an in-depth discussion on what I wanted to do with my life. I expressed my desire to be a vet but was too scared of the responsibility and being faced with painful scenarios. He gave me the encouragement necessary to pursue my dream," she says.
Dr. Salvatoriello says "helping bring pets and their owners closer together through optimal health and longevity" is the most satisfying part of being a veterinarian. She recalls working closely with an older cat that lost a leg following a serious illness. "Seeing the client and pet every day or so during the healing and rehabilitation process was hugely rewarding. This very brave kitty made an amazing recovery that brought joy to everyone involved," she says.
She enjoys spending time with her husband and young children along with her Papillion, Isabelle. Her pursuits outside the office include hiking, geocaching, biking, and snowboarding.
Leah Ames, Practice Manager, and Technician
Practice Manager and Veterinary Technician Leah Ames started her animal health career at Driftway in 1995. She has covered all positions over the years but is happiest assisting with surgeries. She is driven not only by her compassion for animals but also by the human relationships that she's created during her time here. When time allows, she enjoys traveling to the mountains of New Hampshire with her husband Kevin and son, Jacob! In August of 2021 they welcomed a rescue pup from New England Brittany Rescue named Pip.
What Leah would like you to know:
"I've spent almost half my life at Driftway! It's more than a job, it's part of who I am. I've had the privilege to work alongside some amazing veterinarians and be a part of something wonderful. I love meeting new pet parents and watching them grow over the years!"
Angie Walsh, Technician
Technician Angie Walsh has been with us for the past 25+ years. She is amazing with all our patients, but her superpower is calming the cranky cats! She always seems to put them at ease. Angie has two cats of her own, Smokey & Adam, a Staffordshire terrier Lola and two guinea pigs at home. She enjoys spending time with her family, Kevin and son Shane. In her free time, she enjoys the local beaches and traveling. 
What Angie would like you to know:
"We are a real family here and our clients are the best! I really love and enjoy working here."
Lisa Vickers, Technician & Receptionist
Lisa started with us in 2001 as a kennel attendant while she attended high school. Over the years, she continued to develop her skills and has excelled in many positions ranging from assistant to receptionist to technician. She loves working with animals and especially loves the first puppy and kitten appointments. Educating new pet parents is where she really shines! Being able to spend time with her husband Andrew and their two little girls, Kylie and Emma and working with animals is the perfect balance.
What Lisa would like you to know:
"Driftway is a wonderful place to bring your pets (fur babies)! Everyone there treats them like their own pets. The doctors and staff are very compassionate and caring!"
Erin Stornaiuolo, Technician
As Erin enters her 15th year with Driftway, she has transitioned from receptionist to one of our most valued technicians! Along with her technical duties she's also the wizard behind our social media posts! Erin enjoys spending time with her husband Mark and two children, Mason and Mia. Her pet menagerie consists of her pups, Addie a Hound/Lab mix and Boone a Cattle dog mix along with her turtle, Pico. On her off time she enjoys camping, photography, walking and hiking.
What Erin would like you to know:
"We have a hard working, very caring staff who always have the pet's best interest at heart. Everyone here loves what they do, and it shows!"
Angela McCarthy, Surgical Technician
Angela joined our team in 2019 as a surgical technician. Her love of animals, science and surgery is evident in her exceptional skills in the surgical department. Utilizing her eye for detail, organizational skills and attentiveness to our surgeons allows her to ensure each patient has the best possible experience and recovery. Her and her son enjoy the company of their adorable Boston Terrier Myles and frisky feline Oliver.
What Angela would like you to know:
"Your pets are always treated like our own. We have a great group that goes above and beyond!"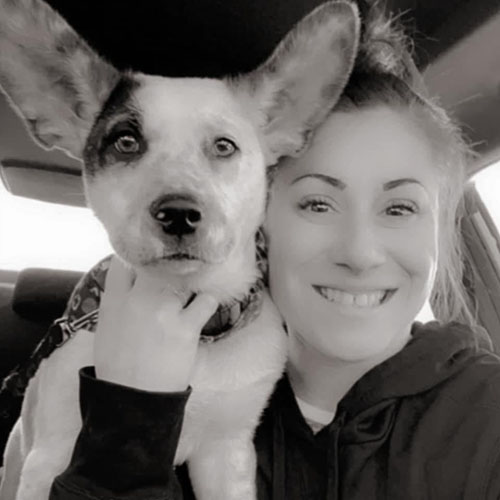 Nicole Lea, Technician
Nicole has recently joined our team! She knew from a young age that working with animals would be her career path. She started her journey as a receptionist at VCA Plymouth in 2011 and attended a certificate program through Massasoit Community College. Her combination of technical skills, customer service background and compassion make her a valuable team member! She's a busy "Fur Mom" to three kitties Bruin, Hank and Keno as well as her newest member Reptar an adorable Cattle Dog mix. When she has time, she enjoys hiking, going to the beach, snow boarding and movies.
What Nicole would like you to know:
"Every person here is in it for the same reason-the health and happiness of your pet!"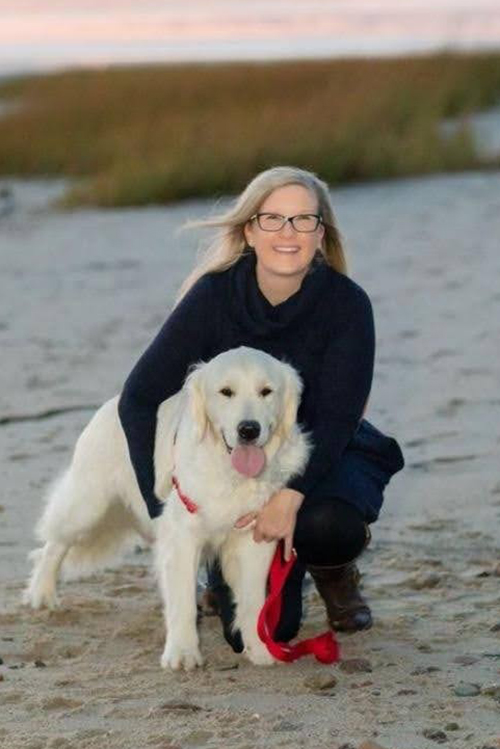 Tricia Stempleski, Receptionist
Tricia and her family were longtime clients before she joined the team in 2017. You'll find her at any given time juggling multiple phone lines, checking in and out patients, tracking down vital reports and patient history's for the doctors and techs and submitting Trupanion claims for clients all while trying to take a moment to pat and snuggle the patients! Her "fur kids" are felines Bella and Minnie and our very own front desk greeter Gus the Golden! She loves traveling and exploring new places with Gus.
What Tricia would like you to know:
"We work very hard to make sure your visit goes smoothly."
Margarita Daley, Receptionist
Margarita joined us in 2019. From a young age she knew she wanted to work with animals. The feeling of making a difference in people and pet's lives is what motivates her during busiest of days! Her positive attitude and ability to multitask allows her to keep things moving at the front. Her and husband Sean are proud parents of three children and two pups, Rey and Coco. When she's allowed some quiet time she enjoys reading, writing, traveling and creative hobbies!
What Margarita would like you to know:
"They are an awesome group of people!"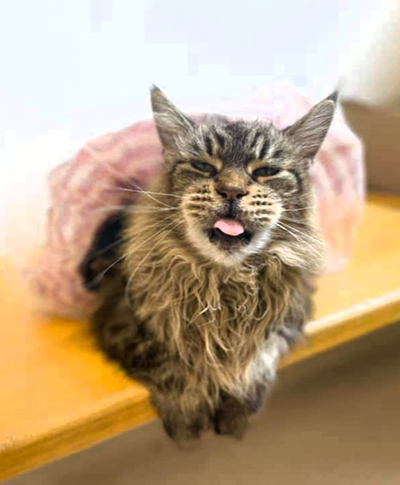 Darla, Resident Hospital Feline
During the summer of 2019, country singer and animal champion Miranda Lambert through her MuttNation Foundation selected the Scituate Animal Shelter as recipient to waive all adoption fees for the month of July. Every animal was adopted with the exception of Darla. At the time she suffered from severe oral lesions which caused terrible swelling of her mouth. Dr. Burke would see Darla during her visits to the shelter when she would treat the other residents. She felt a strong attachment to her and couldn't leave her behind! She's a very spoiled Maine Coon cat with cattitude for days!
What Darla would like you to know:
"I'm not the only one they spoil! They treat all the pets this way!"